The historic neighborhood of Park Slope, Brooklyn, comes with customary restrictive zoning, which mandates the minimum base height, the elevation and depth of setbacks, and limits any protrusions or penetrations of the base. Fortunately, the site owner acquired air rights of the neighboring lots to allow for a massive cantilever looking towards Downtown Brooklyn and Manhattan skyline views.
Our challenge became how to consolidate the historic character of the neighborhood, bold architectural massing, amazing views, and comfortable lifestyle into one residential 40,000 sf building on one of the most prominent corner lots in Park Slope. We started with building massing, using every trick in the book, including an antiquated dormer provision to carve out terraces that step up from the cantilever and look towards Manhattan and Downtown Brooklyn. The building design constitutes the highest point along 8th Avenue facing Prospect Park.
Looking at the facade expression of the building, we wanted it to remain contextual to Park Slope yet still complement the building's bold contemporary massing. We selected white brick to make our building singular in a sea of brownstones, but also applied angular profiles to the facade to echo the angled facades of the neighborhood's famed brownstones. This created a 3-dimensional lace of shadow and light that modernized the atmospheric effects of the ornamental historic facades.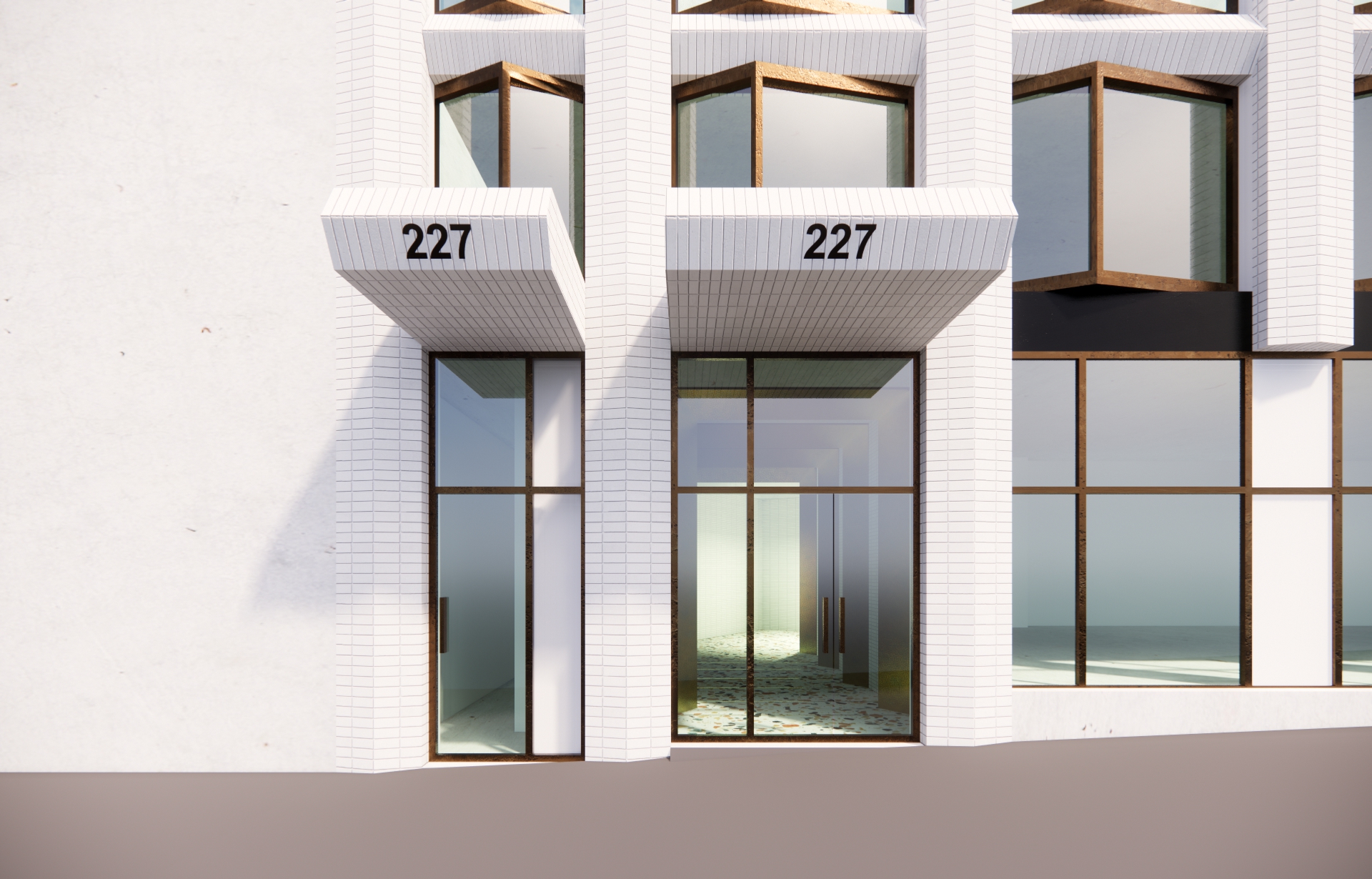 The massive cantilever, the focal point of the building, houses a Sky Lounge on the 7th floor that invites all the building's residents to partake in the incredible views. For the fortunate owners of the 2 units that are located inside, the cantilever becomes a "home in the sky." An operable floor-to-ceiling curtain wall will allow the residents to turn their living spaces into outdoor terraces with skyline views. The remaining 26 units have large open layouts with angled windows creating views in two directions in every room. We brought the exterior bronze framing of the windows inside the apartments and lobby on the ground floor.
Generations of residents will treasure this timeless building, living in splendid comfort in a spectacular renowned neighborhood.